» Home » Auctions Events » Alien Duck Migrates into Online Casino?s Collection!
Alien Duck Migrates into Online Casino?s Collection!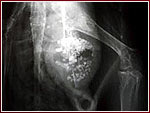 » View Photo Gallery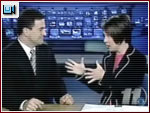 » Play Video

View the eBay Auction.

GoldenPalace.com Buys EBay?s Extraterrestrial X-ray

MONDAY, JUNE 05, 2006, MARIN COUNTY, CA ? Spending $10,000 to win an eBay auction for an x-ray of a duck with an alien in its stomach may seem strange to most people, but for online casino GoldenPalace.com it?s just another day at the office.

On May 21, 2006, an adult male mallard with a broken wing was brought to the International Bird Rescue Research Center (IBRRC), an organization that rescues birds from the devastating effects of oil spills around the world. When the bird was x-rayed, an astoundingly clear image of an alien face was present in the duck?s stomach. Since the IBRRC is located in a region of California notorious for its mysterious crop circles, the x-ray was not taken lightly.

?Since aliens are notoriously short, we initially thought the small proportions of the face meant the duck had consumed a juvenile extraterrestrial being. We immediately knew this was something we had never seen before in our 35-year history,? said Karen Benzel, the IBRRC Public Affairs Director.

The duck unfortunately passed away due to its injuries and the IBRRC was unable to determine what caused the alien image. A necropsy was done by UC Davis veterinarians and showed the stomach had some grain in it, but no alien. The IBRRC then put the one-of-a-kind item up on eBay, with all the proceeds going toward funding IBRRC's rehabilitation programs. The eBay page received over 135,000 visits.

The x-ray was bought by GoldenPalace.com, the internet casino that has made headlines worldwide with their eccentric marketing philosophy and outrageous advertising campaigns, including winning hundreds of weird eBay auctions. As a result, the casino has amassed an impressive and eclectic collection of pop culture phenomenon. The x-ray will be in good company along with the world famous Virgin Mary Grilled Cheese Sandwich and William Shatner?s Kidney Stone among others.

?An interesting and unusual item, a wonderful charity opportunity, and loads of public interest?there was no way we were going to pass this up,? said GoldenPalace.com CEO Richard Rowe. ?Although the truth may not necessarily be out there, this auction proves the interest definitely is. We?d like to thank the IBRRC, and wish them all the best in their continuing efforts.?

Setting the standard in marketing creativity, GoldenPalace.com has devised some of the most exciting and outrageous advertising campaigns in the past few years. Items such as the Virgin Mary Grilled Cheese Sandwich, Britney Spears? Pregnancy Test, and William Shatner?s Kidney Stone have garnered extensive worldwide media attention for the casino. GoldenPalace.com has also used their items and marketing reach to raise awareness and over $1,000,000 for various charities worldwide.


« Back to

Auctions Events Main Page






Comments on this event
---
On June 05th, 2006 at 1:09 PM Terry W said:



I am amazed at what you paid for this item. As a 3 1/2 year volunteer for IBRRC I appreciate your donation and the plug you gave our organization.
---
On July 25th, 2006 at 7:30 PM jason h kaufman said:



right on
---
On August 07th, 2006 at 7:08 PM Daffy said:



I\'ll bet ALL ducks have these critters in their stomachs and that is why they sound so weird when they quack.
---
On September 15th, 2006 at 10:21 AM ladykroft said:



GET REAL!! A broken wing would be the least of this duck\'s problem. He\'d have a major bellyache to begin with and a very sore anus to end with. Some people will believe ANYTHING.
---
Add a comment