» Home » Auctions Events » GoldenPalace.com to Brand Eight eBay Celebs!
GoldenPalace.com to Brand Eight eBay Celebs!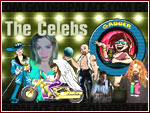 » View Photo Gallery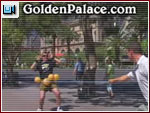 » Play Video

View the eBay Auction.

Eight eBay celebrities will be attending the eBay Live conference in Las Vegas in mid-June. They?ll all be decked out in GoldenPalace.com tattoos, t-shirts and hats while they?re there. ?eBay Live!? is the annual 3-day event where thousands of eBay Community members, industry experts, and exhibitors get together celebrate everything eBay, and GoldenPalace.com has won the auction that gives them the opportunity to get in some great advertising at the show. For the winning bid of $13,000.00, the online casino will also get a full page advertisement on AuctionGab & Grapevine Newsletters and an ad on Power Mix Online Radio before and during the event, plus advertisements on Power Hits 103.3 running every 3 hours for a month as well as a commercial spot in 2 episodes of the famous comedy show, now in its 4th month, called "NLRebel's World".

The eight celebrities heading for the conference are JD, NLRebel, SSBchick, Beavinsons, Razzle, SierraFaith, EZ, and Gabber. If you?re an eBay-aholic, you probably know all of these super eBay-ers already. If you don?t, you might want to visit the original auction page by clicking on the link at the top of this article. All eight celebs will be drawing attention to themselves by dressing in various costumes during the event and while attending different shows, clubs, casinos, and attractions in Las Vegas. They?ll also be doing on the spot wild, crazy and zany antics, such as SurfSkateBling (SSBchick) tattooing her Gluteus Maximus, which will be video taped for extra advertisingfor GoldenPalace.com.

GoldenPalace.com is well known around the world for its interesting and unique eBay auction buys, so it?s only fitting for them to make a big splash at the big conference in Las Vegas that celebrates eBay. The online casino has been using human branding as way of advertising for quite a while now, and the trend doesn?t show any signs of slowing down. Among the more famous GoldenPalace.com people ads are Forehead Goldie, who had the online casino?s logo permanently tattooed on her forehead, and Molly Demers, who had her head shaved, and two GoldenPalace.com tattoos applied to her scalp.


« Back to

Auctions Events Main Page






Comments on this event
---
On May 29th, 2006 at 10:54 PM NL said:



YEAH BABY! LOOKIN FORWARD TO PIMPING GP !!! ROCK ON!! NL
---
On May 31st, 2006 at 7:53 AM Eyez2blue said:



I am sooooooooooo proud of all of you in that auction.. That is awesome and you will sport GP's advertisement better than anyone..I hope you ALL have an Awesome time!!! ROCK ON!!!
---
On May 31st, 2006 at 10:08 AM ShowBren55 said:



My heart will be with this group of Bayer's as they have a BALL in Vegas! Take lots of pictures so that you can share with us that are not going. Have a great time and a great BIG (((((HUG)))))) from SB55
---
On May 31st, 2006 at 3:14 PM Tca said:



Good Luck on yalls trip have a awesome time . What better place to promote for that GP
---
On May 31st, 2006 at 6:11 PM Jay Master F said:



human branding, AWESOME!!!
---
On May 31st, 2006 at 10:11 PM Razzle said:



First...Thanks Golden Palace!!! Awesome!!! Second...We will have your Hair Standing On End!!! Through out this 3 Day Adventure at eBay Live!!!! I Must Say This Will Be The Most Outrageous Time that eBay will ever see... considering the Unique Group that IS SO PUMPED N READY!! BAR NONE....BABY...U Bought The Hottest Ad That Will EVER BE!!! Third being that I also have been Registered as a Player for Gaming on your site. It's Fun, Easy, And Totally Rocks!!! Thanks Again Golden Palace!!! Razz
---
On June 02nd, 2006 at 1:00 PM JunkeeMonkee said:



Oh I can't wait to be able to see the photos, and videos of this event!!! You guys did great....the auction looked awesome and I am so happy that Golden Palace made the choice to win your auction!!! They will not regret it....All of you are the GREATEST!!!! Terri from JunkeeMonkee.com
---
On June 02nd, 2006 at 1:22 PM SSBCHICK said:



I AM SO READYYYYYYYYYYYYYYYYYYYYYy...TATA MY ASS
---
On June 02nd, 2006 at 4:12 PM Gabber said:



The 8 of us are excited about this advertising adventure and we look forward to meeting several of our eBay constituents LIVE in Vegas!
---
On June 06th, 2006 at 1:55 AM EZas123 said:



You ALL Rock. Looking forward to this AWESOME OPPORTUNITY. Thank YOU GPC and Thank YOU eBay! Take it EZ!
---
On June 06th, 2006 at 2:43 PM SierraFaith - The Grapevine News said:



We are all very excited about going and working for Golden Palace!! We have so many things planned that it will probably be non-stop action the entire time!! GPC will love what we do for them!! Thank you GPC!! Golden Palace Rocks!!
---
On June 06th, 2006 at 6:41 PM goldengirl1985 said:



awesome guys..... look forward to the pics and video..... GG
lol are your really ready ssbchick... lol tat away baby....lol
all have a safe and fun trip.......GG (nani)
---
On June 07th, 2006 at 3:28 PM Jay w said:



honestly...you guys(GP) are so smart....you are always jumping first into the pool....way to go...good luck to you all
---
On June 07th, 2006 at 5:14 PM Mr. Safety Professional Idiot said:



See you there.. this is going to be fun : )
---
On June 09th, 2006 at 10:31 PM justruth said:



hey all have fun in vegas . i cant wait to see the pics and see what crazy things you guys will be selling next .
---
On June 16th, 2006 at 6:44 AM SnowFlowerRose said:



you all rock!!! can't wait to see the pics, have fun, be safe and get drunk and win $$ hugs to you all
---
On June 16th, 2006 at 6:45 AM Snow said:



hey all of you, missing you all so bad, bring lots of $$ back and have a safe trip ..hugs to you all
---
Add a comment