» Home » Auctions Events » Golden Palace Casino Secures FleetCenter Naming Rights
Golden Palace Casino Secures FleetCenter Naming Rights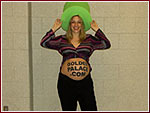 » View Photo Gallery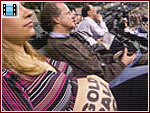 » Play Video

View the eBay Auction.

BOSTON, MA - Delaware North Companies, owner and operator of Boston's FleetCenter, announced today that they have reached agreement with Golden Palace Casino on a single-day naming rights deal to re-name the world-class sports and entertainment arena the "GoldenPalace.comCenter." All net proceeds from Golden Palace Casino's winning bid of $35,099 via online auction site eBay will benefit Boston area charities. The deal will both go into effect and expire on Wednesday, February 16, 2005.

"We have begun our search to replace our previous naming rights affiliation with Fleet and are confident that we will find the right long-term marketing and community partner in the near future," said GoldenPalace.comCenter President & CEO Richard A. Krezwick. "However, in the meantime, we're pleased to offer this tremendous branding opportunity to Golden Palace Casino. We look forward to building a strong partnership with them through the end of the day Wednesday."

Golden Palace Casino's winning bid was one of 322 bids placed on the first six available naming rights opportunities that closed on Tuesday morning. The first six days grossed a total of $51,938.34, with all net proceeds to FleetCenter Neighborhood Charities, the arena's 501(c)(3) non-profit private foundation that benefits outreach initiatives focused on children and families in the Greater Boston area. The remaining February dates are still available for bid via www.FleetCenter.com and www.eBay.com and set to close this Thursday. Given the overwhelming initial response, a few additional dates in March are expected to be added later this week.

The purchase follows a succession of the online casino's charitable contributions. "We are very excited to be the first company to win this opportunity. We have always done our best to contribute to the community and this renaming is an excellent way to help local Boston charities, as well as a unique advertising medium", said Golden Palace CEO Richard Rowe.

As part of the single-day naming rights agreement, Golden Palace Casino will receive:





A framed photo collage commemorating the GoldenPalace.comCenter, including a ticket issued from the GoldenPalace.comCenter Box Office, and official certificate.



"Welcome to the GoldenPalace.com Center" exposure on in-arena Jumbotron and 360 LED signage system.



Front-page exposure on GoldenPalace.comCenter website (www.fleetcenter.com), one of the most highly trafficked entertainment sites in New England.



"Thank you for calling the GoldenPalace.com Center" announcements on venue phone lines & on-hold script.



Four Premium Club seats to see the Boston Celtics game vs. Memphis Grizzlies at the GoldenPalace.com Center.



Plus additional GoldenPalace.com Center gift items.





For information about your opportunity to single-day naming rights to one of the country's most prominent arenas, log onto www.fleetcenter.com.

About the GoldenPalace.comCenter

The GoldenPalace.comCenter is owned and operated by Delaware North Companies - Boston, a subsidiary of Delaware North Companies, one of the world's leading hospitality and food service providers. Its family of companies includes Delaware North Companies Parks & Resorts, Delaware North Companies Gaming & Entertainment, CA One Services, Sportservice, Delaware North Companies International and the Delta Queen Steamboat Company. Delaware North Companies is one of the largest privately held companies in the United States with $1.6 billion in annual revenue and 30,000 associates serving half a billion customers in the United States, Canada, the United Kingdom, Australia and New Zealand.


« Back to

Auctions Events Main Page






Comments on this event
---
None yet. You could be the first!
---
Add a comment