» Home » Auctions Events » Holy Pierogi: Fried Image of Christ Sold to Online Casino
Holy Pierogi: Fried Image of Christ Sold to Online Casino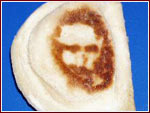 » View Photo Gallery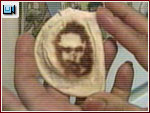 » Play Video

GoldenPalace.com Buys Divine Dumpling on eBay



View the eBay Auction.

AUGUST 16, 2005, POINT PLACE, OHIO -- Adding to an already eclectic collection of religious oddities and other weird items, online casino GoldenPalace.com paid $1,775 USD to win an eBay auction for a pierogi that bears the image of Jesus Christ.

The seller, Donna Lee, said the Jesus face appeared when she was cooking Polish dumplings for Easter dinner at her home in Point Place, a Toledo suburb on Lake Erie. She's kept it in her freezer ever since.

"We?ll keep buying these items as long as people are interested in them,? said GoldenPalace.com CEO Richard Rowe. ?Like the Virgin Mary Grilled Cheese Sandwich that we bought, the pierogi also bears a very distinct impression of a divine image. It?s obvious there?s huge interest in this item as the eBay auction page received nearly 50,000 visitors. The pierogi is the perfect addition to our collection, and people will be able to see it for themselves when we take our museum on tour.?

The casino has made headlines worldwide with eBay purchases such as the Virgin Mary Grilled Cheese Sandwich, Pope Benedict XVI?s previously owned 1999 Volkswagen Golf, and Britney Spears? Used Pregnancy Test, as well as their innovative ad tattoo on the bodies of sports figures, celebrities, and even animals.


« Back to

Auctions Events Main Page






Comments on this event
---
On August 16th, 2005 at 8:15 PM Charles said:



I guess you had already determined that this image wasn't fabricated using a blow-torch and a template, and that the $1,775 couldn't have instead been donated to a worthwhile cause?
---
On August 17th, 2005 at 7:34 AM Annika Sonic said:



Good to be first in something!! Without you guys I wouldn't have a Morning Show!!! Love following your acquisitions and informing our listeners. i'd love to have a representative of yours on the show..phone is ok! Good promo for you museum. Annika Sonic...WSUL...Monticello, New York
---
On August 17th, 2005 at 10:33 AM Douglas said:



Charles, if you watch the video the couple says they are going to give the money to charity... hospice? So I guess it is worthwhile. The lord works in mysterious ways.
---
On August 17th, 2005 at 2:08 PM Jason Craig said:



Charles seems to ignore facts. In my opinion if you think like a con then you are a con. Doesn't say much for Charles's opinion. I see not what it matters. If this piece gives one person a little happiness than it has done its job as a worthwhile cause.
---
On August 17th, 2005 at 4:40 PM Martin Solevchk said:



I've been wondering after the reasoning for only fried foods showing up with these images...

Now I think that there is a divine message hidden that no one has discovered yet.

Fried foods are going to save us! That is the message I think!
---
On August 17th, 2005 at 10:46 PM Charles said:



Think like a con, then you are a con? Does that mean that detectives investigating crimes are cons?

I meant that the casino could perhaps have found a better use for the $1,775 - they could have donated this money directly to a charity, rather than hoping the seller in this auction will donate the proceeds to charity as promised.
---
On August 22nd, 2005 at 7:26 PM I said:



looks more like Charlie Manson
---
On August 23rd, 2005 at 9:12 PM she said:



I agree. Who deserves more to be fried, or have a fried image, than Mr. Manson (Charlie or Marilyn, take your pick).
---
On August 24th, 2005 at 5:32 PM mr smooth said:



It really DOES look like Manson! It kind reminds me of the backwards messages in songs. If someone tells you what you'll hear, that's what you hear. It sure wouldn't have worked if they tried to sell a perogi wiht the image of Manson on it... So they told us what we'd see.
BOGUS, MAN!!
---
On August 25th, 2005 at 9:07 PM she said:



mr smooth, take a look at that Virgin Mary sandwich, too. Someone pointed out that it looks more like Marlene Dietrich, and they're right! I think Charles (the one who made the first comment here) might be right: these things are being made using templates, and people can't tell the diff between the Jesus vs. Charles Manson or Virgin Mary vs. Marlene Dietrich.
---
On August 29th, 2005 at 10:15 PM Michael James said:



Hey, did you see the picture of the alien rock on e-bay? It would last longer than the divine dumpling, and you wouldn't have to keep it in the freezer.lol I think you guys buying this stuff gives everyone something to talk about. In return good press for you. Keep it up.
---
On September 30th, 2005 at 10:59 PM spamcakes said:



I have not laughed so hard in a long time. Jesus vs. Manson? Mary vs. Marlene? You guys beat Leno and Letterman anytime! Golden Palace gives us ebay wannabees hope-it has us looking for divine images in our grease splatters. I agree, fried foods are the way to go.
---
On November 07th, 2005 at 1:24 AM BoBo said:



This is a picture of charles Manson not our Beloved Lord. Please start looking at what you are buying.
---
On November 12th, 2005 at 7:45 PM Beatles fan said:



You guys are all frickin' cracked...It's not Charles Manson, it's not Jesus, and it's not our beloved Lord.

It is JOHN LENNON! This is his way of telling the surviving members that they should reunite as the Beatles. More perogies will turn up on eBay in 2006 so that they will know who to replace John Lennon and George Harrison with.

A perogy shaped like Yoko Ono will appear near the end of 2006. I believe this will foretell an ominous event happening in Yoko's life - she will die, or fail to break up the reunited Beatles, or lose her voice, or something like that...
---
On January 18th, 2006 at 8:05 PM justin said:



This is my aunt and uncle who sold the perogi and it is the real deal. I live in columbus and had heard about the perogi a few months before it sold through other relatives who kind of just laughed it off as a joke or something but the first time i actually saw it was on my local news when it went on ebay. It does look like a face and the Jesus/Manson comparison right on. Within a few days the story was picked up nationwide. Even Jay Leno was making stupid jokes about it. 50,000 people looked at it on ebay. Also, she did donate money to a Toledo area hospice facility.
---
Add a comment