» Home » Charity Events » GoldenPalace.com gets an icy reception!
GoldenPalace.com gets an icy reception!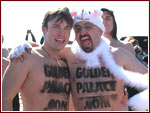 » View Photo Gallery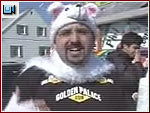 » Play Video

A courageous and fun-loving group of people took an icy plunge for GoldenPalace.com. Gleny and his friends participated in the annual Polarbear Plunge and much to the delight of onlookers, many were sporting GoldenPalace.com logos applied to their bodies, giving maximum exposure to the online casino. Here?s a first-hand description of the event: ?... it was 22 degrees outside, but the wind chill said 18. The wind was kicking and everyone that was there will attest. It was frigid today, and there is no better time to jump into the Atlantic Ocean then when it is like this. The polar bear plunge only happens in my town once a year and it was today.?

?The water temp was 40, so we really anticipated a warm jump... but what happens when you get out is horrible. COLD CRISP air beats down on your skin and it contracts.. and tightens, and well basically it hurts.. real bad.?

We can?t thank these folks enough for putting themselves through such an ordeal for GoldenPalace.com. Way to go Gleny and Friends!


« Back to

Charity Events Main Page






Comments on this event
---
None yet. You could be the first!
---
Add a comment