» Home » Sports Events » GoldenPalace.com backs two cars in Grand Prix Masters!
GoldenPalace.com backs two cars in Grand Prix Masters!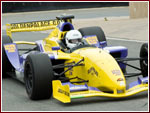 » View Photo Gallery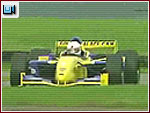 » Play Video

Golden Palace Online Casino backed two drivers in the recent Grand Prix Masters Series race at Kyalami International raceway in Gauteng, South Africa. The Grand Prix Masters races have gathered some of the best of the best from the past, some of whom competed on the very same track, way back when. There should be some pretty strong rivalries going on between drivers that haven?t raced against each other in perhaps twenty years. Some of the names you might recognize are: Emerson Fittipaldi, Alain Prost, Alan Jones, Nigel Mansell, and Ren? Arnoux to name but a few.

GoldenPalace.com sponsored Alan Jones and Ren? Arnoux in the race, which took place over the weekend of November 11th to 13th. While neither of our drivers won, it was still a very exciting race. Unfortunately, Alan Jones was forced out of the race due to neck problems and was replaced by Elisio Salazar who finished 8th, and our other driver, Rene Arnoux, came in 12th. Here?s what Nigel Mansell, the winner, had to say: ?What a race! I started on pole and that was the critical factor today given how hard I was pushed by Emerson (Fittipaldi). He just didn?t give up, nor did I expect him to. I tried to break-away from him but he just kept his nose behind my car and on a couple of occasions made moves on the inside of corners He really is a legend and someone I admire immensely. Today, however, he was a pain in the ass!!? Second place belonged to Emerson Fittipaldi, and third went to Ricardo Patrese.

Since this was just the first in what promises to be a fantastic racing series, you may very well see more about future GP Masters sponsorships in the future. The only sure way to find out about it is to keep tuned to the GoldenPalaceEvents.com web site for updates on this story. With GoldenPalace.com continuing to break new ground with unique and unusual advertising ventures, there?s always lots to find out about right here!


« Back to

Sports Events Main Page






Comments on this event
---
On January 16th, 2006 at 10:16 AM paul said:



I saw the event and it was brilliant.
---
On February 16th, 2006 at 10:46 PM goldengirl said:



Man I wish I could of seen this........ I love speed..... check out my wheelchair.........lol maybe i will add jets to it.........
---
Add a comment