» Home » Sports Events

: has video

: has comments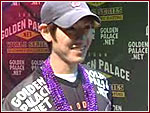 New Lobster-Roll Eating World Record!



The world's greatest competitive eater, Takeru Kobayashi, set a new world record by consuming 41 lobster rolls in just 10 minutes. That's a pretty quick way to make $10,000 in prize money! » Read More




Froch wins WBC super middleweight title fight


GoldenPalace.com sponsored Carl Froch and his WBC super middleweight title fight on Saturday, Dec. 6 2008. Froch (24-0) won after outpointing the courageous Canadian Jean Pascal (now 21-1) in front of a packed Nottingham Trent FM arena. » Read More




GoldenPalace in the ring again


Hennessy Sports in association with GoldenPalace.com are proud to announce that the rescheduled date and venue for the British Middleweight Championship fight will now be held on Friday 20th June 2008 at the SkyDome Arena Coventry. » Read More




GoldenPalace.com Sponsors Cobra's Hood


Carl 'The Cobra' Froch became the first ever to stop world operator Sergey Tatevosyan at the Nottingham Arena on Friday night, whilst standout prospect John O'Donnell landed his first professional title. » Read More




GoldenPalace.com Pays 10K for a Ground Clash


'The Snowman' Jeff Monson was crowned 10k Ground King at a fantastic night at the Hackney Empire Theatre in London. » Read More




GoldenPalace.com Punches Up Their Exposure


GoldenPalace.com adds presence to the boxing world by becoming the title sponsor for the WBC World Light Welterweight Championship, held at Alexandra Palace. » Read More




Raging Boll: Movie Director Gets Even With Critics



Filmmaker Uwe Boll made history this weekend by beating the tar out of four of his harshest critics in a boxing match sponsored by publicity-hungry internet casino GoldenPalace.com. » Read More




Uwe Boll to Literally Fight His Critics


After receiving a slew of horrid reviews for his latest film, Boll did what any successful filmmaker would do - challenged his detractors to a boxing match to knock some sense into them. » Read More




GoldenPalace.com in Pamplona Bull Run!


GoldenPalace.com continues the tradition of running with the bulls in 2006. The online casino has made the run every year Since 2004. » Read More




Golden Palace Goes The Distance With "Hold Nothing Back" Match



In a fight that was dubbed a "Hold Nothing Back" match, "King" Arthur Williams defeated Kenny "The Emmett Eliminator" Keene in Boise, Idaho while proudly sporting the famous GoldenPalace.com tattoo on his back. » Read More



GOLDEN PALACE HAS THEIR PIE AND EATS IT TOO



Winner of GoldenPalace.net Pie Eating Contest Consumes 7.9 lbs Of Rhubarb » Read More




Estonians win Wife-Carrying Championship!



The World Wife-Carrying Championships were held last weekend! A couple from Estonia won the 250 meter race held in Sonkajarvi, Finland. » Read More




Sky High Ad Campaign!



GoldenPalace.com has reached new heights with its media ad campaigns. Several skydivers and base-jumpers have given the #1 Online Casino a big lift. » Read More




Las Vegas Getting Cheesier by the Second!



Only in Sin City could such gluttony be celebrated as it was this weekend, when the IFOCE was in town, GoldenPalace.com for the World Grilled Cheese Eating Championship. » Read More




Bertoletti Wins World Ice Cream Eating Championship



Patrick Bertoletti, a 20-year-old culinary student from Chicago, today won the GoldenPalace.net World Ice Cream Eating Championship by consuming 1.75 gallons of ice cream in eight minutes. » Read More




National Aboriginal Hockey Championships!


This event is unlike other hockey championships as it offers a unique blend of high performance competition in a strong, supportive cultural environment. » Read More




GoldenPalace.com strong-arms sponsorship deal!


GoldenPalace.com will be sponsoring the "fitness couple" of armwrestling. Michael Todd and Tonya Wood are both into bodybuilding and armwrestling and are both champions in those fields. » Read More




Spring Break pie-eating contest!


Spring break is well known as a time for? competitive eating!?! A World Series of Competitive Eating contest was recently held where the contestants had to eat as much pie as possible within the set time limit. » Read More




Contestants eat up St. Pat's Day Eating Championship



Chicago competitive eater Patrick Bertoletti downed 5.75 pounds of corned beef and cabbage in 10 minutes, besting a field of power chowers to win a $2,500 purse. » Read More




Hearts Rapidly Devoured at Valentine's Day Massacre



In a violent display of mass consumption, Chicago native Patrick Bertoletti slaughtered the competition by eating nearly 2 pounds of chocolate hearts. » Read More




GoldenPalace.com Goes Deep With Arena Football League


The number one internet casino and poker room scored big with AFL fans in this advertising campaign. » Read More




Sonya Thomas is World Grilled Cheese-Eating Champion



Sonya Thomas of Virginia mounted a dramatic, come from behind charge, swallowing three grilled cheese sandwiches in the final moments to edge Joey Chestnut of California for the win. » Read More




GoldenPalace.com sponsored boxer fights on home turf!



Another tattooed boxer has made an appearance for GoldenPalace.com. Zab Judah fought an anonymous challenger to get ready for a possible fight with his best pound-for-pound opponent, Floyd Mayweather Jr. » Read More




Danny Green fights for GoldenPalace.com again!


Green threw everything but the kitchen sink at tough Kirino Garcia, but try as he might he could not floor the rugged Mexican. Nevertheless, he pitched a 100-90 shutout on all three of the judges. » Read More




GoldenPalace.com gobbling up the competition!!



The Thanksgiving Invitational turkey eating competition was won by a 105-pound woman by the name of Sonya Thomas at Artie's Delicatessen in New York City on November 24, 2005. » Read More




GoldenPalace.com backs two cars in Grand Prix Masters!



Golden Palace Online Casino backed two drivers in the recent Grand Prix Masters Series race at Kyalami International raceway in Gauteng, South Africa. » Read More




Marketing stunt lands GoldenPalace.com in prison!!



GoldenPalace.com recently sponsored the Angola Prison Rodeo, the longest running prison rodeo in the country. » Read More




TV Network Rubs Out Boxer's Sponsorship Deal


Minutes before Ricardo Mayorga was to fight for the WBC super welterweight championship, representatives of the Showtime network blacked out the words "GoldenPalace.com" from the fighter's back. » Read More




Eat To Compete: GoldenPalace.com World Grilled Cheese-Eating Championship Circuit Underway



The best competitive eaters will tour the country downing as many grilled-cheese sandwiches as they can. $20,000 is up for grabs for the eaters with the highest totals at the circuit?s end. » Read More




Welterweight Hector Camacho Jr. at Pechanga Casino.



Welterweight Hector Camacho Jr. makes appearance at Pechanga Casino, and is successful against opponent Nelson Estupinan. » Read More




Size Matters: World?s Largest Poker Table Goes On Tour


A giant poker table, complete with oversized chips, cards, and dealer button has been built for the purpose of a national promotional Tour for a new DVD entitled ?WiseGuys On Texas Hold Em?. » Read More




Online Casino Sponsors Rise of the Machines


The machines now have their very own championship tournament with the World Series Of Poker Robots at Binion?s Casino in Sin City that ran from July 12 to 20. » Read More




Disabled World Series of Poker Player Puts Best Foot Forward


William Rockwell loves to play poker and doesn?t let his disability stop him from doing it. Without the use of his arms, Rockwell uses his feet to hold his cards. » Read More




Dennis Rodman Crosses Line With Wife



Rodman was on hand for the 2005 Wife Carrying World Championships in Sonkaj?rvi, Finland, sponsored by GoldenPalace.com. Wife carrying has it's origins in the 19th century practice of wife stealing. » Read More




The World Grilled Cheese Eating Championship



The nation's top competitive eaters gathered in Venice Beach, CA, for the Goldenpalace.com World Grilled Cheese Eating Championship. » Read More




Danny Green Defeats Rival Eric Lucas To Win Title



Danny Green defeated French Canadian fighter Eric Lucas to win the WBC interim super middleweight championship. Lucas went down in the sixth in a match dubbed as being a "Head-on Collision". » Read More




Green survives knock-down to win in fifth



Danny Green recovered from the first knock-down of his professional career to stop Argentinian Omar Gonzales... » Read More




Boxer Danny Green Wins Down Under



With the infamous GoldenPalace.com tattoo emblazoned on his back, Australian hero Danny Green handily defeated his opponent Sean Sullivan at the packed Challenge Stadium. » Read More




Rodman and Minardi: One Winning Formula


The Minardi Team's new sponsor, GoldenPalace.com, is flying in Dennis Rodman to cheer them on at the British Grand Prix. » Read More




Michalczewski Defeats Hall In Edge-of-Your-Seat Bout


Dariusz 'The Tiger' Michalczewski was victorious in one of the toughest fights of his career against Jamaican-American Richard Hall. Both fighters gave the fans one to remember. » Read More




GoldenPalace.com bets on Minardi


GoldenPalace.com will be cheering on the Minardi Team at this today's French Grand Prix, following a landmark sponsorship deal, which pioneered a new relationship between the online casino and Formula One worlds. » Read More




Boxer's Tattoo Gets Underneath ESPN's Skin


ESPN has banned a boxer, Kassim Ouma, who had an ad tattooed on his back during his last televised fight. » Read More




What Would Boxing Be Without An 'Ali'?


Laila 'She Bee Stingin' Ali, daughter of legend Muhammad Ali, defeated Suzy Taylor to win her first title belt, the IBA Super Middleweight title at the Aladdin Hotel & Casino in Las Vegas. » Read More




Brown Goes Down In The Eighth


Frenchman Jean-Marc Mormeck defended his WBA cruiserweight title yesterday with a victory over a bloodied Dale Brown of Canada when the referee stopped the bout in the eighth round. » Read More




Butterbean to Become World's Biggest Body Billboard


Evidently GoldenPalace.com believes that size indeed does matter. As Esch has by far the largest real estate available in the boxing community, it was only a matter of time before GoldenPalace.com rented the space. » Read More




GoldenPalace.com to Help Fund Retired Boxers Foundation


The Retired Boxers Foundation--founded by Alex 'The Bronx Bomber' Ramos, former USBA Middleweight Champion (1984), 1986 California Middleweight Champion, member of the USA Boxing Team (1978-80) and one of NBC's Tomorrow's Champions--is dedicated to e » Read More




To Tattoo or Not To Tattoo?


'Advertising is one of the fundamentals of professional sports today. Leagues, teams, and players try to figure out the best ways to increase their income through advertising. Advertisers are trying to figure out new ways to get the best exposure for » Read More




Tattoo Anything But You


'ESPN's Classic Sports boxing is a great pleasure for a fight fan. In catching up with the old-school matches it's nice to see a time and place where the fighters didn't have to worry about slipping on ring advertisements.... Needless to say, the ESP » Read More




Ad Tattoos Get Under Some People's Skin


'Omnipresent advertisers are exploring their final frontier: ad 'tattoos' on human bodies. Tonya Harding, Todd Bridges and Danny Bonaduce sported temporary tattoos for online casino Golden Palace... » Read More




Judge Allows Adams to Wear GoldenPalace.com Tattoo in Saturday's Fight


'In a victory for boxers and free speech, a District Court judge ruled Thursday that boxer Clarence 'Bones' Adams can fight Paulie Ayala Saturday night in Las Vegas while wearing a temporary tattoo advertising online casino GoldenPalace.com.' » Read More




GoldenPalace.com Tattoos Hill For Title Defense


WBA Cruiserweight Champion Virgil "Quicksilver" Hill will defend his title against Number One Contender Jean Marc Mormeck in Marseille, France on February 23, 2002. Hill will be the latest high-profile fighter to be "backed" by the snowballing market » Read More




DISTRACTION? WHAT DISTRACTION?


'What's a distraction in boxing and what is not? Apparently, that depends on who's being paid to distract whom with what. This question comes to mind in the wake of the Nevada State Athletic Commission's decision this week to ban the body ads most re » Read More




Tattooed Hopkins Breaks Record With Latest Victory


On February 2, 2002, Bernard Hopkins made history by defeating Carl Daniels for his 15th successful title defense -- breaking the 25-year-old middleweight championship defense record held by Carlos Monzon. » Read More




Leonard Dorin Wins WBA Lightweight Title


On January 5, 2002, Leonard Dorin defeated Raul Balbi to win the WBA Lightweight Championship at the Freeman Coliseum in San Antonio, Texas. » Read More




Lucas 'Tattoos' Thobela to Retain Title


With just the right combination of speed and power, Eric Lucas defeated Dingaan Thobela on Friday, November 30 at the Montreal Molson Center to retain the WBC super-middleweight title. » Read More




Hopkins Uses Body to Promote Website


In an unprecedented marketing campaign where Bernard 'The Executioner' Hopkins met Felix 'Tito' Trinidad at Madison Square Gardens on September 29, 2001, GoldenPalace.com left quite an impression on Hopkins, and the boxing community. » Read More